REGTECH is a Chicago based equipment repair service company dedicated to providing equipment repair service to dive centers on a full line of dive equipment since 1990.

The Scuba Equipment Industry has grown and diversified. It has become more and more difficult for dive centers to maintain the in-house staff and inventory of parts necessary to meet all customers' needs in a timely

manner. REGTECH technicians are trained to repair equipment manufactured by most major companies, and we are devoted to keeping abreast of the latest equipment developments.

Because

REGTECH is dedicated to equipment repair, REGTECH maintains a large inventory of parts so we are always ready to service all types of equipment by most manufacturers (Dacor prior to 2000, parts unavailable due to manufacture), including 1st and 2nd stages, buoyancy compensators, tank valves etc.

All equipment will be serviced to the manufacturers specifications and carries a 30-day guaranty on workmanship.

All regulator service is based on availability of parts.

REGTECH IS TRAINED TO SERVICE THE FOLLOWING MANUFACTURERS :
| | | |
| --- | --- | --- |
| APEX | ATOMIC | AQUALUNG |
| BEUCHAT | DACOR | DIVE RITE |
| DRÄGER | MARES | OCEANIC |
| OMS | POSEIDON | SCUBAPRO |
| SEAQUEST | SHERWOOD | TUSA |
| | ZEAGLE | |
OCEAN TECHNOLOGY SYSTEMS
Please ship your package by FedEx or UPS, so it can be tracked.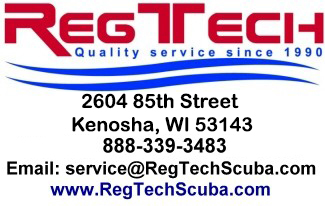 This page was last revised:

Click here to print the PDF forms to enclose with your shipment.